Leaf through our collection:
Breathe: A Letter to My Sons (Compact Disc)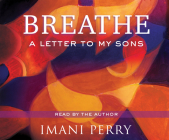 $34.99
Likely unavailable -- email or call for more information
*** A 2020 FINALIST FOR THE CHAUTAUQUA PRIZE ***
Description
---
Emotionally raw and deeply reflective, Imani Perry issues an unflinching challenge to society to see Black children as deserving of humanity. She admits fear and frustration for her African American sons in a society that is increasingly racist and that, at times, seems irredeemable. However, as a mother, feminist, writer, and intellectual, Perry offers an unfettered expression of love--finding beauty and possibility in life--and she exhorts her children and their peers to find the courage to chart their own paths and find steady footing and inspiration in Black tradition. Perry draws upon the ideas of figures such as James Baldwin, W. E. B. DuBois, Emily Dickinson, Toni Morrison, Ralph Waldo Emerson, and Ida B. Wells. She shares vulnerabilities and insight from her own life and from encounters in places as varied as the West Side of Chicago, New England prep schools, and Birmingham, Alabama. Breathe offers a broad meditation on race, gender, and the meaning of a life well lived and is also an unforgettable lesson in Black resistance and resilience.