Leaf through our collection:
Faith Ed: Teaching about Religion in an Age of Intolerance (MP3 CD)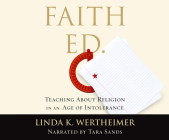 $24.99

Not on our shelves; Usually Ships in 3-5 Business Days
Description
---
Courts long ago banned public school teachers from preaching of any kind. But the question remains: How much should schools teach about the world's religions? Veteran education journalist Linda K. Wertheimer traveled to communities around the nation, listening to voices on all sides of the controversy surrounding teaching religion in public schools. She interviewed clergy, teachers, children, and parents who are Muslim, Jewish, Christian, Sikh, or atheist. Wertheimer's fascinating investigation reveals a public education system struggling to find the right path forward and offers a promising roadmap for raising a new generation of religiously literate Americans.