Leaf through our collection:
1st Grade Spelling Flashcards: 240 Flashcards for Building Better Spelling Skills Based on Sylvan's Proven Techniques for Success (Sylvan Language Arts Flashcards) (Cards)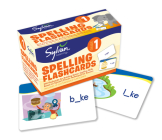 Description
---
HELP YOUR CHILD SUCCEED WITH SPELLING!

Colorful illustrations and exciting words make these spelling flashcards fun for any kid! We've selected 230 words to help your child develop skills in phonics and spelling, and included 10 more blank cards so your child can add personal words like family names or favorite foods.
 
Plus, you can keep track of which words your child has learned with the color-coded meter on the side of this box. Once your child feels comfortable with a card, flip it upside down, move it to the back of the box behind the divider, and watch your child's reading skillset grow!
About the Author
---
Sylvan Learning is the premier provider of tutoring services for grades pre-K to 12 in North America. With over 850 locations in the United States and Canada, Sylvan provides individualized tutoring services, both in centers and online, in subjects including math, language arts, writing, study skills, and more.Sylvan's proven process and personalized methods have helped more than two million students unlock their academic potential. With products based on solid and scientific research, Sylvan is committed to both quality education and to helping children discover a love of learning!